New arrivals list
|
List of articles
|
Annual list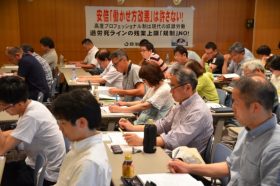 Jichiroren held a national exchange meeting in Tokyo on June 2, aimed at eradicating long working hours and improving safety and health at work. Jichiroren has carried out a campaign throughout Japan to visit its members' offices and to address issues of long working hours. The meeting was organized to share achievements in the campaign ...
2018/07/30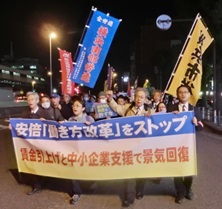 As the People's Spring Struggle Joint Committee staged a day of actions on March 15, members of Jichiroren held rallies and demonstrations throughout Japan on and around the day. Kanagawa: Rally and Demonstration after work hours The Yokohama City Employees' Union held a rally after work hours with 150 participants. Secr...
2018/05/21
We demand thorough investigation into falsification of official documents and Moritomo Gakuen scandal--Core of the issue is distortion of administration by treating public workers as servants of those in power Statement by Satoshi Nakagawa(Secretary General, Jichiroren) March 16, 2018 The Finance Ministry on March 12 reported to a boar...
2018/04/05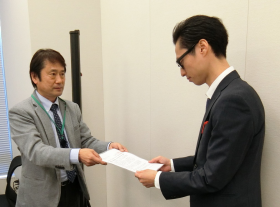 Members of Jichiroren's committee for withdrawal from nuclear power generation and promotion of renewable energy, on December 14, submitted a statement calling for effective evacuation plans in a case of a nuclear accident to the Cabinet Office and had a talk with officials of the Office. The committee's Chair Shingo Sakurai (Jic...
2018/03/01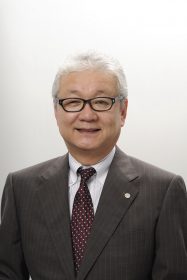 Let us talk about the Constitution in workplaces and courageously mark this year as major turning point  I wish you a Happy New Year. During last year, Prime Minister Shinzo Abe's aggressive attitude and personalization of national politics provoked public anger. It was also a year when opposition parties and citizens tenaciously develo...
2018/01/18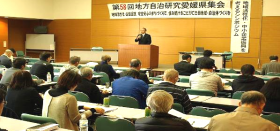 At a study meeting with business owners and scholars in Ehime Municipal workers in Ehime Prefecture held a study meeting on November 12 in Matsuyama City to examine their work and community to make their municipalities friendlier to residents who hope to keep living in their community. This is the 58th annual meeting they hosted with E...
2017/12/19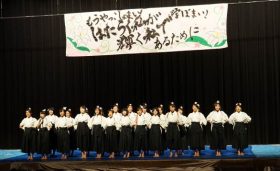 "For working women to shine" Women working in local governments gathered on September 2 and 3 in Nagoya City, Aichi Prefecture, and discussed how to balance their work and life and how to create a workplace where they can work with human dignity. This is the 37th national exchange meeting with 660 participants. Young members of t...
2017/10/26