Workers stage day of actions in 2018 Spring Struggle
As the People's Spring Struggle Joint Committee staged a day of actions on March 15, members of Jichiroren held rallies and demonstrations throughout Japan on and around the day.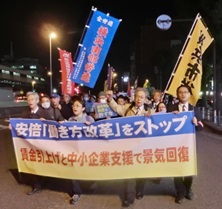 Kanagawa: Rally and Demonstration after work hours
The Yokohama City Employees' Union held a rally after work hours with 150 participants. Secretary General Morita gave a keynote report, and representatives of two branches expressed their determination for the Spring Struggle. After the rally, the participants marched in demonstration in Isezaki cho.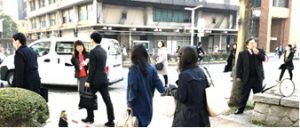 Chiba: Speeches in front of prefectural building
Members of the Chiba Prefectural Workers' Union gave speeches and distributed its organ paper in front of the prefectural office building. Handing out about 1,900 copies of the paper, 15 union members said through a microphone: "Major companies' responses to pay-raise negotiations are insufficient. Let us join forces with workers in the private sector in the Spring Struggle." "More workers need to be hired to ensure shorter overwork hours. A certain improvement has been made in this task, but we need to further strengthen our efforts."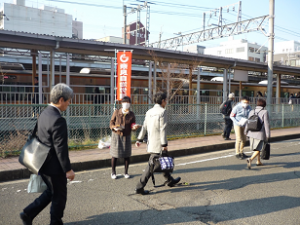 Nara: Protest against unilateral abolition of allowances
In response to Koku-ho Chuo Hospital's sudden proposal for abolition of allowances, union members demanded an alternative measure and negotiations, arguing that the allowances have made up for their low wages. However, the hospital sent the union a unilateral notice of the abolition on March 2. On the morning of March 13, union members distributed their news letters in front of the hospital.
On the early morning of March 15 when Zenroren-affiliated unions in Nara Prefecture performed concerted actions, Jichiroren members of Nara City's water workers, including those who took part in this type of union actions for the first time, handed out flyers in front of Shin-Omiya station, the nearest station to the city office.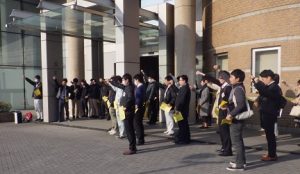 Ibaraki: Morning rally in front of town office
At an early morning rally in front of the east gate of the Sakai Town office, 55 unionized workers adopted a resolution, pledging to develop cooperation with citizens and gather all union members' strength for the 2018 Spring Struggle.
Union members of Itako City and Tsukuba City handed out yellow flyers (draft of the resolution) to workers. In Chikusei City, union executive members distributed flyers to all 970 workers.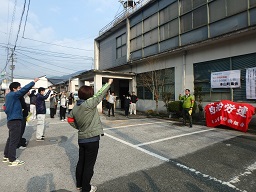 Kochi: Rallies before and after work hours
In Motoyama Town, about 35 union members took part in a rally before work hours in front of the town office. In Tosa Town, 31 workers joined a rally at 5:30 p.m. held at a meeting room of the town office. They reviewed their recent struggles and strengthened their unity for a collective bargaining scheduled for March 19.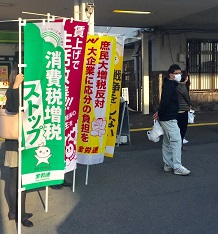 Shizuoka: Street actions, meeting sessions, and post-card actions
In Ito City, about 41 union members distributed flyers and pocket tissue packets in front of five different stations. Some passers-by encouraged them by saying, "Keep up your good work," and "I count on unions for a drastic pay raise."
Union members in Gotenba City held a study session to learn about the significance of the people's joint struggle campaign. An executive committee of the Hamamatsu City Employees' union decided to promote with postcards in local areas a 30 million signature campaign to oppose the Abe Cabinet's revision of the Constitution.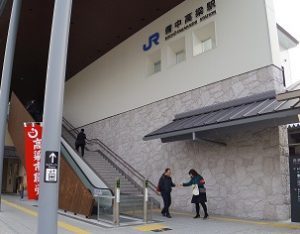 Okayama: distributing flyers in front of station
In Takahashi City, union members from 7 a.m. distributed flyers in front of Bicchu-Takahashi Station, calling for higher wages, a halt to "workstyle reform" bills, and against the Abe Cabinet's constitutional revision. Some workers expressed their appreciation to the unionized action.
At workplaces, they distributed their newsletter reporting pay-raise negotiations the union has continued since last fall and calling for wider cooperation in the Spring Struggle.