"We want to do a good work for citizens and for ourselves" Osaka municipal workers hold exchange meeting
Municipal workers in Osaka Prefecture held a two-day study and discussion meeting where they shared concerns, problems and joys they have in their workplaces.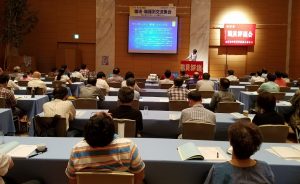 This meeting was part of unions' efforts to respond to their members' wish to provide better services for residents and to contribute to developing local autonomy. It was the 21st meeting of this kind held on June 24 and 25 at the "Cityplaza Osaka" hotel with 119 members participating from 20 unions.
Participants learned in three lectures about political and economic situations affecting their work.
Ritsumeikan University Professor Hiroyuki Mori gave a lecture on the theme, "Considering Osaka's autonomy from situations of the United States." He reported on local municipalities' fight in the U.S. against the federal government to defend residents' livelihoods: some municipalities have declared themselves as a sanctuary city to block the Trump administration's forcible adoption of the immigration law from violating unauthorized immigrants' rights to live and receive social services or as an environment city in protest against the U.S. withdrawal from the Paris Agreement. "In order to build a tolerant society, municipalities' roles are significant," he expressed.
On the theme, "Casino and world's fair further deteriorate Osaka's economy," Hannan University Professor Teruo Sakurada gave a strong report, referring to the remark of comic storyteller Shofukutei Chikurin, "The struggle against casino businesses is the struggle to restore Osaka's dignity".
Pointing out that the Osaka governor calls for casino businesses to be opened in Osaka following the enactment of a law to lift a ban on casinos in the national parliament, Sakurada encouraged municipal workers by saying, "Osaka will not be developed only by having more visitors. We can develop a city only when our city building effort fulfill the wish of residents."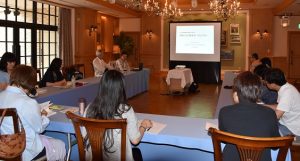 The third lecture was given by Hidenobu Tagawa, who retired from the Setagawa Ward Office in Tokyo this march, on the theme, "municipal workers and jobs in welfare services."
Tagawa stated, "Japan's welfare system based on self-support efforts and personal ties is unusual in the world from the viewpoint of a legal system and public awareness." He added, "Municipal workers need to work to make welfare systems more accessible for residents.
Following the lectures, participants had active discussions in 10 difference workshops (social welfare, urban agricultural administration, national health insurance, education and culture, taxation, construction, finance, privatization of help desk services, municipal jobs assigned to non-regular workers, and water supply and sewerage services).