Jichiroren's message on May Day to all workers throughout the world
As a labor union organizing workers in local public service sectors throughout Japan, Jichiroren expresses its sincere solidarity with workers in the world, especially those who are in the midst of difficult fights against the novel coronavirus, and calls on all of you to fight together until we will overcome this pandemic.
In Japan, as the number of coronavirus infection cases continues to increase and the national government has declared a state of emergency over the coronavirus outbreak, citizens are living with great anxiety about their health and financial difficulties.
Most of public workers, particularly in medical and health fields, are risking their lives and working hard to support the elderly, the disabled, small- and medium-sized companies and workers, provide childcare assistances, dispose of hazardous materials, and supply safe water.
Jichiroren has cherished and maintained a motto, "Without prosperity of local residents, municipal workers will not be happy." With this motto in mind, we are determined to accomplish our difficult tasks just like other public workers throughout the world.
At the same time, we must criticize the Abe administration more strongly for its poor measures against the coronavirus. A serious shortage of personnel, equipment, masks and other protective gear at medical institutions has resulted from its long-term cuts based on neoliberalism in medical services. We demand that it immediately solve the problem.
Although many businesses in service, culture, art, and sports industries are facing serious crises due to restrictions on movements and activities, the Abe administration refuses to cover the loss of their income. We urge the government to allocate fiscal spending to protect their livelihoods.
It is very unfortunate that under the ongoing stay-home requests, our union members will not be able to take to the streets to appeal to the public on May Day this year. At various workplaces striving to maintain their services to local residents during the restrictions, Jichiroren promotes activities to encourage workers, improve public services, and remunicipalize privatized services under our slogan, "Let us join forces to protect our lives and livelihoods".
Fighting against the novel coronavirus needs a global effort. To win this fight, international solidarity is crucial. In the world, political forces putting their country first remain in power. In Japan, some lawmakers of ruling parties insist that non-Japanese residents should be excluded from recipients of the government's cash compensation. We cannot win the fight in such a way.
Let us strengthen solidarity with all workers. Together, we will prevail.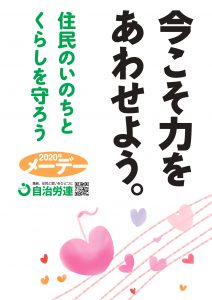 (Our Campaign Poster"Let's join forces now to protect the lives of the residents")