Jichiroren holds research on British remunicipalization of public services and attends UNITE conference
Jichiroren sent Vice President Kyoko Takayanagi to London from November 13 to 21 ,2019 to research the U.K.'s remunicipalization of water services and to observe the 6th National Industrial Sector Conference of UNITE the union. She was accompanied by legal advisor to Jichiroren Masayoshi Obayashi and Yu Nishimaki, a staff member of its secretariat.
UNITE has 1.4 million members (including 90,000 public workers) in the U.K. and Ireland. It sent its member to the "International Symposium on Public-Sector Workers' Struggle against the Destruction of Public Services under Neo-Liberalism" Jichiroren hosted in May 2019. In her talks with General Secretary Len McCluskey at the UNITE head office, Takayanagi expressed her appreciation for UNITE's participation in the international symposium.
Research on remunicipalization of water services
The research was conducted jointly with Japanese citizens and lawyers who were involved in campaigns to block privatization of the water industry in Japan. On November 14 at a meeting room of the UNITE head office, they interviewed Simon Dubbins, director of international and research for UNITE, Cat Hobbs representing citizens group "We Own It," and a UNITE member and worker at Anglian Water, a water company that operates in the East of England.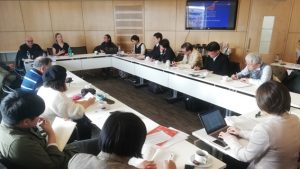 Referring to the structure of UNITE and the upcoming general election (December 12), Dubbins stated that as prolonged austerity measures had brought about hardships to the general public, privatized services should be taken back into public ownership.
Ms. Hobbs explained that since 2013 when it began a campaign to establish "our public transport," "We Own It" had been sending out information related to public policies in easy-to-understand words and fighting against privatization. She said that as 85% of British people were in favor of remunicipalization of water services, citizens supported the idea of public ownership of certain services and facilities. She also stressed the importance of working with labor unions in order to join forces with a wide range of people.
The Labour Party's 2017 release of a manifesto calling for no more privatization of national health services (NHS) became a major turning point. The NHS privatization since then has been halted with media having been unable to promote it.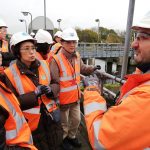 On November 15, the Japanese delegates visited a water purification plant, which was outsourced to Canadian company Thames Water in 1985. They toured the facility and were briefed by a union leader.
They learned that in ongoing labor-management negotiations on putting the water plant back into public hands, local union representatives were able to directly negotiate with managers of the Canadian headquarters thanks to cooperation with a labor union at the head company. They realized the need for international solidarity of labor unions amid capitals expanding internationally.
They also learned that all 50 workers (including two women) at the plant were permanent employees because the European Union protects workers' right to hold down their jobs after being outsourced.
UNITE's National Industrial Sector Conferences (November 19 and 20 in Brighton)
At a joint plenary session of the industrial sectors, representatives of Jichiroren, United Steelworkers of the U.S., and Building and Wood Workers' International headquartered in Switzerland were introduced to delegates. The plenary session was followed by separate meetings held by individual industrial sectors.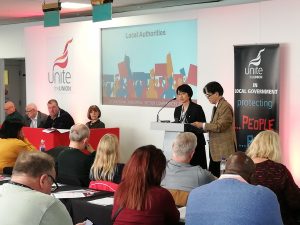 In her speech at the Local Authorities Conference, Jichiroren Vice President Takayanagi stated that Jichiroren maintained two pillars of movements: establishing local governments that can meet residents' needs and realizing demands of public workers. She explained that in opposition to the Abe Cabinet's privatization and destruction of public services, Jichiroren was promoting activities together with residents in medical, water, and many other sectors. Takayanagi said that she would share with other Jichiroren members what she learned from UNITE and British citizens groups as well as called on UNITE to continue to fight in solidarity with Jichiroren against privatization of public services.
Participants in the Local Authorities Conference emphasized what can be done for the future was to block outsourcing and to change the government to that end. The Conference proposed a campaign to share nationally experiences in achieving remunicipalization. A UNITE activist on health and safety measures gave a PowerPoint presentation on healthcare of workers, such as early detection of cancer, and restrictions on drinking alcohol and smoking.