Govt should respond to frontline workers' strong demand Jichiroren submits to MIC 41,500 signatures calling for better treatment of non-regular public employees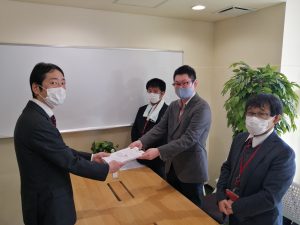 Jichiroren on November 11 submitted to the Ministry of Internal Affairs and Communications 41,500 signatures calling for better treatment of all non-regular public workers.
The signatures were submitted by four representatives, including Keizo Nagasaka, Jichiroren's vice president, Koichi Shimabayashi, director of Jichiroren's Wages and Workers' Rights Bureau, and Shinsuke Matsuzaki, general secretary of the Tokyo General Union of Public Service Workers (TOKU-IPPAN).
They handed the signatures to Mr. Nagata, assistant chief of the MIC's Local Public Service Personnel Division, requesting the ministry to properly respond to the strong demand of frontline workers as more than 40,000 signatures are "filled with their pride and anger".
Fiscal year-term appointment staff's wages and working conditions must be improved immediately so that they can work without anxiety
"We have been receiving desperate voices from around the country", said Jichiroren Vice President Nagasaka, who shared the following voices sent from its union members:
– Many employees have to make their living as fiscal year-term appointment staff.
– In an area of high snowfall, non-regular public employees were expecting to receive bonuses, but the amount of which was reduced from their monthly salary, and their take-home pay became around 100,000 yen per month. One of the employees could not afford to buy new boots and other workers made jokes at him for wearing old boots repaired with tapes.
– Some expressed they wish they could eat out at least once a month.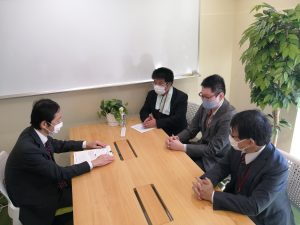 – Others said their wages are much lower than regular employees who are doing the same job as them.
Nagasaka urged the MIC official to "immediately improve non-regular public workers' wages and working conditions so that they can work without anxiety."
MIC: It wants to "continue the survey for the time being"
TOKU-IPPAN General Secretary Matsuzaki pointed out that the introduction of the fiscal year-term appointment system has put non-regular workers at risk of being dismissed and that dismissing experienced workers leads to degradation of services for residents. He also stressed that a huge gap exists between the purpose of the system and the actual situation and said, "The national government provides its non-regular employees with the same bonuses as its regular employees. Fiscal year-term appointment staff should be treated the same way and receive the same lump-sum payment as their regular colleagues."
Asked when the MIC releases results of its survey on situations which have been brought about by the fiscal-year term appointment system, the MIC official answered that it tries to publish them by the end of this year or by the end of this fiscal year. Regarding the ministry's future surveys, he stated,"The system has just been introduced, and we want to continue the survey for the time being."