2021 New Year Message from the President
Let us strive to build politics and society that protect residents' lives and livelihoods
Shingo Sakurai
We wish you a Happy New Year.
In the wake of the spread of the novel coronavirus infection last year, public service workers in every sector worked hard to protect lives and livelihoods of residents while facing various difficulties, such as risks of being infected and passing the virus to their family members as well as long working hours due to inadequate structures at work. Their struggle still continues in the year 2021. I once again would like to express my respect and appreciation for them.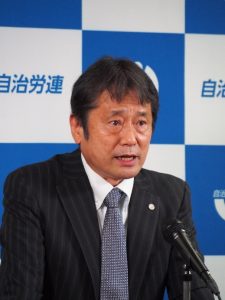 Jichiroren has made efforts to arouse public opinion on the importance of public services by submitting requests to the Japanese government and proposing policies related to public health and medical care based on voices of our colleagues working on the front lines. This year we will continue to work hard to establish politics and a society that protect residents' lives and livelihoods.
The approval rating of the Suga Cabinet has continued to decline since the end of last year, reflecting citizens' urgent voice against its lack of determination and policies to protect their lives and livelihoods. As the coronavirus infection must be brought under control as soon as possible, we need to make the government reflect on and review its cutting down of all public services that has been promoted under neoliberal policies, including medical care and public health.
While the Covid-19 pandemic has brought renewed attention to roles of local governments, whose primary responsibility is to improve residents' welfare, and the need to expand the roles, the national government and the business circles are planning to further destroy local autonomy under the "2040 Local Government Strategy". We must make 2021 a year to block their plan, improve public services, and protect and develop local autonomy.
The Treaty on the Prohibition of Nuclear Weapons, which is the wish shared by many people in the world, will enter into force on January 22. In Japan, a general election is set to be held this year. Aiming to create a workplace where everyone finds fulfillment in their work and to establish a society with politics that protect residents' lives and livelihoods, we will work with our colleagues throughout the country to promote our movement.
We look forward to receiving continued support from our colleagues.