2018 New Year Message from the President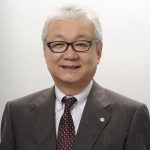 Let us talk about the Constitution in workplaces and courageously mark this year as major turning point
 I wish you a Happy New Year.
During last year, Prime Minister Shinzo Abe's aggressive attitude and personalization of national politics provoked public anger. It was also a year when opposition parties and citizens tenaciously developed their unified efforts while having many twists and turns, keeping their hope for change in politics.
Harsh working conditions, which took away workers' lives, as well as the unstable employment status of non-regular workers became a major social issue, bringing public attention to roles of labor unions.
Let us courageously declare our presence as labor unions, have dialogues about the Japanese Constitution in workplaces, and make unions bigger and stronger in order to mark this year as a major turning point for political change.
The Abe cabinet obtained more than two-thirds of seats of the House of Representatives in the general election last year. Aiming at proposing a constitutional revision at the coming ordinary session of the Diet, it is trying to have 'other advocates of constitutional revision' join in its move by offering them to add other articles they want to embody in the constitution for "dissolution of voting inequalities in the Upper House electoral districts by merging districts" and "free tuition higher education". Its goal is obviously to turn Article 9 into a dead letter so that Japan can fight war together with the United States.
We should not allow the Abe Cabinet to propose constitutional revision. An important action to develop public opinions in this regard is the 30 million-signature campaign to thwart Prime Minister Abe's intent to revise Article 9. The campaign's appeal, "Keep Article 9 unchanged," and "Realize politics which values peace, human rights, and democracy guaranteed by the Constitution," is very simple but reflects the most urgent demand that can be shared by every citizen. We need to use our wisdom and ingenuity to carry out this signature campaign in every workplace and community.
Another major targets in the 2018 Spring Struggle are to restore national and local economy by winning a pay raise, and not to let the Abe Cabinet's "work-style reform" destroy employment.
Supporting private sector workers' fight for a drastic wage increase, every local union needs to make their own demands in written requests and conduct collective bargaining. These demands should include those of fellow non-regular workers in the public sector such as securing their jobs and equal treatment. Let us push for our demands unifying nationwide efforts for establishing an across-the-border minimum wage system and promoting public contracts regulations, and blocking Abe's labor reform.
The only way to address deepening poverty and increasing social disparity in community is to step up measures for income redistribution, such as improving social security services, securing local administration and finance services that support residents, and retaining more full-time staff at work. Let us wage a struggle in every union and workplace to secure enough budgets and personnel to create a better community and workplace.
Let us gather those local efforts at a national unified action on March 15 to create major mobilization of workers and citizens.
Hitoshi Saruhashi